Ajax shocked the world by booking their place in the Champions League semi-final. Not because of the feat itself, but because of how it was done. Beautiful team play featuring several young players (many from the academy) all on a tiny budget. With future world class players like De Jong (21) and de Ligt (19).
How restricted is their budget? The starting lineup vs. Juventus cost under $57m (almost a third of that was on Blind, a former academy product). Ronaldo alone cost double that amount. The entire Juventus starting lineup cost $387m, almost seven times more than the lineup of Ajax.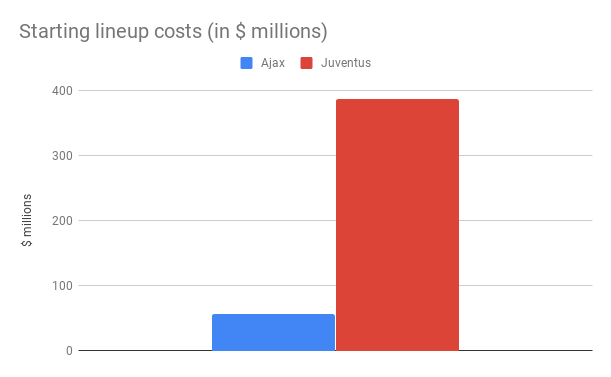 For less than half a million dollars combined these are the current players that Ajax either developed in their academy or bought at a young age:
de Ligt
De Jong
van de Beek
Mazraoui
Onana
Veltman
Dolberg,
de Wit,
Ekkelenkamp, and
Eiting.
Those players are now worth approximately $275m combined on Transfermarkt!
A couple things stick out: Early pro debuts, great coaching and scouting, and giving the youth players a chance to perform. Why? Because that's what Ajax was founded on. If you are good enough, you are old enough.
They would love to give a guy like Frenkie De Jong (21) or de Ligt (19) a chance, because when it works they get a huge reward. Both those players combined are now worth just over $160m, while Ajax spent nothing to get them. To boot, these young players led a run to the Champions League semi-finals.
All done with high stakes on the line. The Champions League, a league title race that can be determined by one point, and the KNVB Cup (Ajax are in the final).
Let's compare that to the United States. For the most part young players have not gotten enough playing time despite zero risk of relegation and over half the teams in MLS making the playoffs. We have normalized things like $200m on expansion fees but can't fathom how a club like Ajax got to the Champions League semi-final with six academy starters, and spending practically zero in the transfer market.
With six U-23 starters. With fearless, attacking football. The reason the Ajax story has such a "feel good" sizzle about it is because it's "what could be" for us in the United States. The only way to get there is to not accept the status quo. If we continue to accept the status quo nothing will change, despite the false promises and hype people give. Ajax should be a wake up call for the future of youth development in the United States.
Thoughts? Questions? Engage with us in the comments section below, or on Twitter @SeanMonaghanSM and @3four3.