One of the least talked about stories with player development in MLS has to do with the lack of creative homegrown midfielders in the league, specifically attacking midfielders.
This isn't just down to talent, it also has to do with the salary cap. Historically MLS teams use their designated player spots on attacking players, mainly at center forward and attacking midfielder.
Teams need a difference maker in those positions, so they are usually bringing in a player who's making at least $500,000 a year if not millions of dollars.
When we think of players who play the 10 in MLS we think of the obvious examples – Valeri, Lodeiro, Pozuelo. I think what isn't talked about is most teams have a creative midfielder (or someone that can play the 10) as one of their most expensive players. Many teams have two or three players who can fill the role if needed.
To sign a homegrown player at 16-19 years old and trust him to play the 10 over a foreign player who is likely making 5 to 15 times his salary is going to be rare. The table shown below are players who were on MLS rosters to start the 2019 season who are creative midfielders. I have put them in two categories; players who mainly play as attacking midfielders (the 10), and players who have played there as a second position.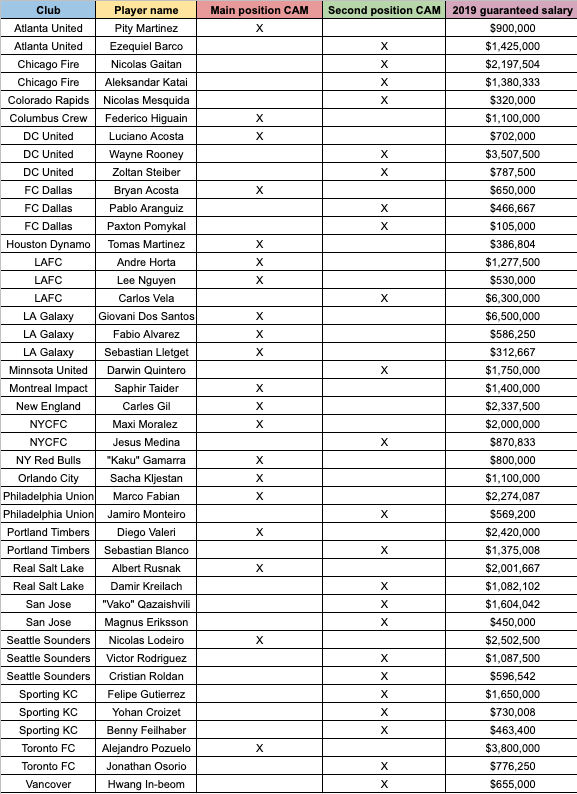 What stands out to me isn't just the high salaries of the players listed, but the lack of young Americans on the list. The only two young Americans getting consistent starts are Paxton Pomykal and Brenden Aaronson (for reasons we can go into in a separate article).
Pomykal, who despite being an MLS All-Star is only making $105,000 a year. I would also say he is not a traditional 10 and – long term – projects more as a box to box number 8. Brenden Aaronson has made a solid amount of starts for the Union, but if you look at his salary he is making 23x less than Fabian and 6x less than Monteiro (the two players who also can play the 10 for the team).
Because of the salary cap and reliance on designated players I think there will continue to be a lack of attacking homegrown players in MLS. The chance of a breakthrough at left back or right back (where teams traditionally spend less) is significantly higher for most homegrown players.
Because of the reliance on instant difference makers in the number 10 position as well as the big money spent with attackers in a salary cap league there will be very few homegrown players trusted in this position on the field.