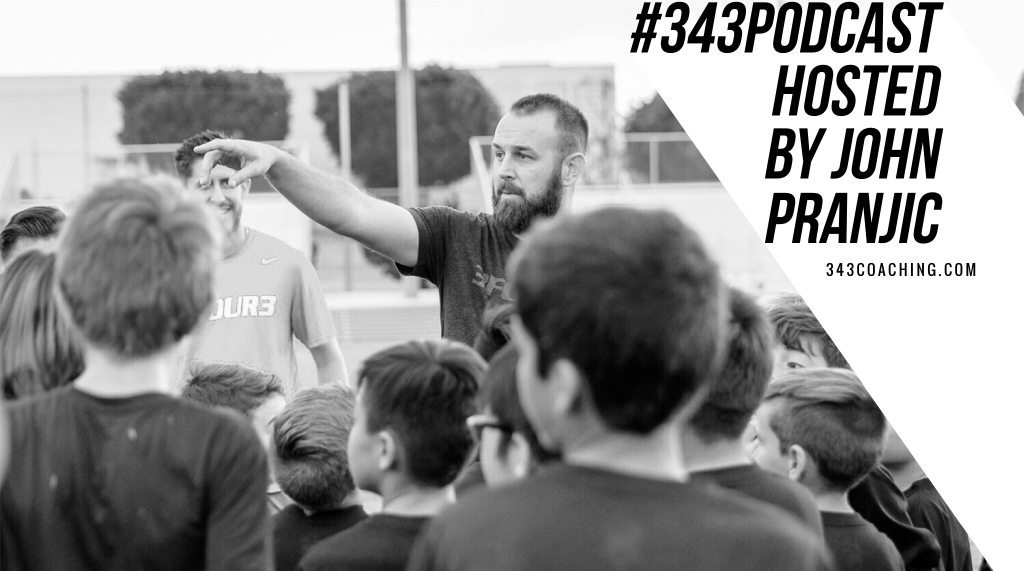 This episode is about Player Development.
It's not the first time we've talked about it on this podcast. It's a broad topic. Which means it certainly be discussed again.
Because we're getting close to launching our first online course geared towards individual player development, I feel like it's an important time to dive in on some of the things that have influenced the way we see the game, and ultimately how we teach the game.
One of the biggest influences has been street soccer or pickup soccer.
We believe this is one of the most beneficial tools for individual player development. We believe in it so much that we even launched our own pickup soccer program, and boy did we learn a lot from that. We'll save that juicy data for another day.
It's well known one of the advantages players outside the US have is pickup ball.
A popular quote attributed to Johan Cruyff states: "I trained 3-4 hours a week with Ajax when I was little but I played 3-4 hours every day on the street. So where do you think I learnt football?"
Across the globe, players of all ages from 7-year-olds to adults benefit from the street game – that informal pickup culture the American player lacks. The barrio, as hispanic/latino cultures call it, is where strong mentalities, ball skills (of the smooth, not mechanized variety), and the dark arts of the game are forged.
Even in pop culture, you can see hints of this. The popular Netflix series Narco's repeatedly shows pick up soccer being played in its South American settings. It even showed the pickup soccer field that Pablo Escobar has installed at his personalized prison.
The point is that we know street soccer exists, and we know it's a big part of footballing development in other countries.
What the majority of Americans have not been able to grasp is that street soccer:
Is not something you can get at your club.
Is not something you can get with personal training.
And this important to understand because street soccer, or informal play, is something that is critical to top-level player development, perhaps most critical.
If a player doesn't have this throughout their early developmental years … well, the player will likely never have "it".
Again, remember this is not us speaking in theoretical terms, or parroting what countless world-class players have said. This is us speaking from decades of personal experience working with players at all ages and levels, up to and including the cutting edge in the United States.
Personally, I'll never forget when good friend Nick Rogers, organized a pickup game at a park in Orange County. We had enough players to have two games going at once with one team resting. We occupied both basketball courts.
Small pug goals were placed under the baskets. Everyone was in street shoes.
You might be wondering while I'll never forget this…
Well, Uly Llanez was probably 14 or 15 at the time. And I'll never forget when he turned to run and his knee slammed into a big metal pole. My first reaction was, "Oh, shit."
He went down. He stayed down for a little bit. But he got back up.
It reminded me of the numerous conversations I've had with his longtime coach, Brian Kleiban, about how Uly's mentality has been a work in progress since the age of 9. At 9, 10, and 11, Brian said Uly would cry, a lot. I remember one conversation with Brian when he said he went on the field to check on Uly after an injury and he told him that this was the last time he was coming on the field. No more crying.
And from that day on Brian noticed a change in Uly's mentality. I noticed it that day on the basketball court.
Of course, a lot more went into the making of a player like Uly. We actually tell-all in our new course the player development masterclass. You get details about that on 343masterclass.com.
But let's get back on track…
We've been quite outspoken about the 'soft suburban culture' over the years and how that negatively impacts a player's formation. The best players, historically, and from personal experience, by and large, don't come from a soft, pampered, background. They come from struggle and having to earn every inch of progress.
Nothing does that better than the self-regulating streets.
Nothing does that better than pickup game culture:
Where you clown, and get clowned.
Where you may not get as many games, or any, as the next guy because you don't get on a team that often.
Where you may be called 'little man' because you're younger, smaller, or just not as good as everyone … yet.
Where even the best baller in the barrio may get shown up by an up-and-comer, a new-comer, or a ringer.
Where every inch of respect is earned, not given.
Privilege and entitlements go out the window here folks. This is the jungle.
But these are also among the fondest memories of virtually all footballers. Aside from building irreplaceable footballing skills, it builds character that lasts a lifetime.
Gwendolyn Oxenham and Luke Boughen, two American players, traveled the world searching for pickup games. They ended up making a documentary about their experiences. The movie is called Pelada, which is Brazilian and translates to naked, meaning the game stripped down to its core.
The documentary is great because it shows what real street soccer is.
Unfiltered. Raw. Relentless.
What American soccer club can you name that can be described with those three words?
None come to mind.
Because, again, street soccer, and those ingredients, are not something that you can get from a club.
Parents, please listen, if you think your player is getting everything they need from their 2 or 3 team practices per week, you're mistaken.
You see, the team environment is just one facet of overall player development.
As we've pointed out before, Player development can be broken into 5 major components:
1. The household/parent/family influence.
2. The playing on your own influence.
3. The pickup game influence.
4. The structured club training influence.
5. The personal training influence.
Each tap into a piece of the puzzle.
Some may be more important than others.
There's definitely overlap between each.
And finally, in the end, there are still matters of circumstance that can make or break you.
But you see, three of the five components are things that you and your player control. You don't need a club for those.
Yes, the team environment is important. But the team environment is not where a player should expect to develop individual skills, or flare, or savviness, or bravado.
No.
That comes from somewhere else.
---
Never miss new episodes: