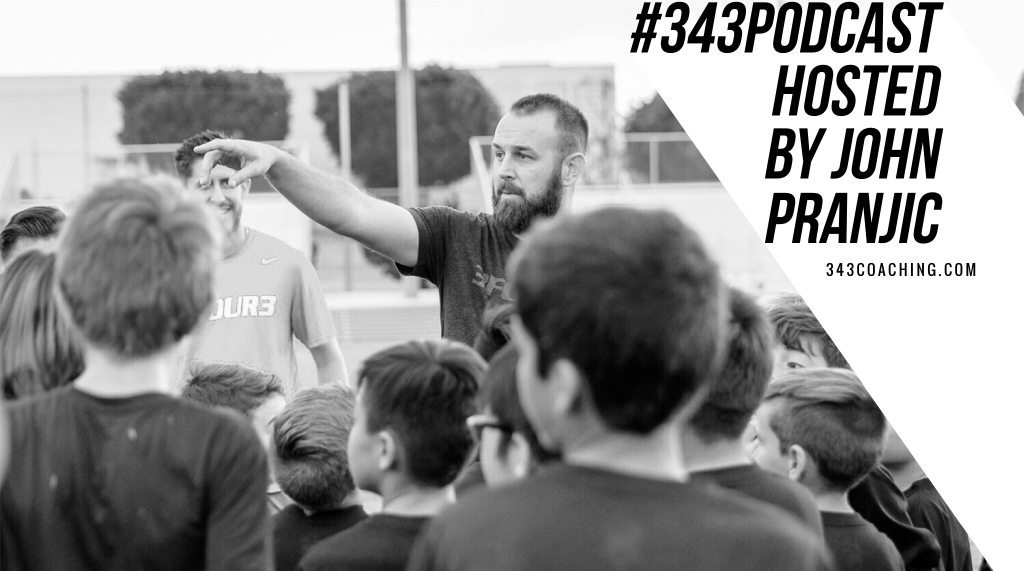 On this episode of the podcast, John answers your questions that you submitted on Twitter. All of the questions are presented below with his answers, additional thoughts, and links to things that were mentioned during the episode.
This episode is also available in video format. You can watch that here.
Twitter Questions and Answers
1) Andrew Crollard – How have you changed your ideas around consolidation phase to build out of the back with rise of high pressing as a common tactic?
Great question, Andrew. I'll start with this – my ideas about building out of the back have not changed a significant amount since I solidified my beliefs on how I want my teams to play. For quite a while, I was easily influenced when I saw new drills or read new theories, but it wasn't until I settled on my philosophy and really put the consistent work in to bring it to life that I saw lots of improvements from my players and teams. With that said, high pressing is not anything new. Once coaches see you're going to play short goal kicks or try to use your backline and gk, they will tell their players to press. If a coach makes that decision on the fly, that's great for me and my team, we annihilate them because they're basically chickens with their heads cut off and we're well versed in what we're trying to do. So, I welcome coaches who do that. What might be new is teams being organized with their high pressing. If this is the case, no problem, that pushes you to design ways for your team to beat that press. For example, you could play long a few times to make them think you're not going to build, after a few times doing that, you decide when to settle it down, they might be too tired to continue with the high pressing after that frantic pace. That's a legit tactic. Another one I love to use, especially in goal kick situations, is to have the team look disinterested in what's happening, maybe walking up towards midfield, putting the other team to sleep, and then all of a sudden everyone comes to life. Another example would be having all of your players pushing up, but maybe your 8 or 10 comes all the way back to get it instead. All of this should be planned and rehearsed before executed though and it should fit your team's needs and your vision as a coach. How do we want to build? What if they press? What if we break the press? What if they win it? All of these situations need to be addressed during training.
Michael Jolley's video that is referenced.
2) Tyler Bubeck – How can I try out for the USMNT??
I think there is a sign-up sheet on their website. Go check it out 🙂
3) Mix Diskereuds Hair – Realistically in a nationwide open pyramid soccer ecosystem, what are the barriers to entry at the lowest tier? For example, to get into the 8th (lowest) tier of the Houston FA ladder you have to pay an $1800 registration fee. Would it be something similar?
The barrier to entry at the bottom isn't the biggest problem. Men's leagues charge anywhere from just weekly ref fees to a couple thousand per season and those run year-round across the country. So I don't think the bottom of the pyramid is the issue. The real problem is the ceilings that exist at every level which keep people from progressing and climbing the ladder – in American soccer, we have a caste system. Dennis Crowley and Riccardo Silva did a great job of highlighting this when they brought their arguments to the Court of Arbitration for Sport. Thankfully, they made a lot of the information public and provided high-quality information regarding the way American soccer is set up and how it is detrimental to the sport in America. Dennis has also done a great job with being transparent through the process of building his club from the ground up and about the problems he experienced as the club started to grow. He is, in my opinion, the best resource for anyone interested in learning more about the initial barriers to entry, how to start a club from scratch, what to expect as you grow, and how US Soccer, the governing body that creates and enforces policies, is detrimental to American soccer. Here are some links to his content.
4) Otownvoice – How many clubs are continuing to pay coaches during this off time? Will this disruption cause clubs to fold? Will any of these changes impact leagues?
Great questions. I imagine each club is handling it differently. In my area, there is one club that uses mostly volunteer coaches, so they're probably doing fine. Another local club uses mostly young college or ex-college players. I don't know how they're handling it. What I'll do is retweet this and see if people chime in with how what their clubs are doing right now. Will this have impacts on leagues, I don't think so, but who knows at this point.
5) Dylan – How fortunate do you think @ussoccer has been with the timing of the Cordero/players council debacle and the Covid pandemic. It seems it has taken a lot of focus away from the situation. I feel like it should be a bigger deal given what's at stake.
Another good question, Dylan. Thanks. I think US Soccer, and MLS as well, are quite often very, very fortunate. This isn't the first time I can think of that the "it's just a game" sentiment has been able to be deployed to detract people. Meaning, look what's happening in the world right now, do you really need to complain about US Soccer? And then people back off. That's how they benefit. But right now, it looks like the USWNT is pushing forward with their lawsuit, and this is good. My advice to people would use this time to educate yourself on key American soccer issues so you can join the conversation in a progressive manner.
6) Issac – What are your thoughts on the different youth leagues in California? Cal south, NPL, DA academies I've had some discussions with a few coaches in what is best and the lack of accessibility for DA's to get the best players in California.
Issac, thanks for the question. The leagues in California are a mess. DA, ECNL, SCDSL, CSL, and a handful more. Determining which one is best really comes down to what your player's goals and aspirations are and also the potential of achieving those goals. It's important to remember that the majority of players are recreational players. Even if they're playing club, or planning to go to college, most players are rec players. Understanding that will help you understand that whatever league they play in is probably okay. But if the goal is to play professionally, and they have legit potential, with a great work ethic, then I would say the league matters and given the circumstances in American soccer, the DA is where they need to be if they're a boy. If they're a girl, then the route is a little different. Right now, college is still route most girls are going because there aren't many professional teams in American women's soccer. This needs to change. But at the moment, ECNL seems to still be the leader when it comes to girl's youth soccer and the relationship they have with college coaches is strong. That's my opinion. Again, I think this needs to change. Women's professional soccer must grow in the United States if we want to maintain the top spot. That opens up a whole new thread of questions and comments. I'm sure other people have other opinions and will light me up on twitter after they listen to this. But the answer to your question, DA for legit boys, ECNL for legit girls, and most kids are probably fine with whatever league they're in.//
7) ConserveDwall – Why are the best technical players being developed in North Texas (FCD) and Philadelphia (Union)? I thought California was a hotbed, but those two areas have produced Pomykal, Pepi, and Aaronson recently that are standouts. Plus they are playing the youth. Thoughts?
Well, this is a loaded question. I don't necessarily agree that most technical players are being developed in North Texas or Philadelphia. FCD and Philadelphia Union have the luxury of being in MLS, therefore they can progress players to the biggest stage in the country. But, that doesn't mean they developed the player and it doesn't mean there aren't more technical players in other areas of the country. So there is a lot more to that question than you think. As far as California goes, well, I think there are hundreds if not thousands technically gifted players here. Without the proper runway for the players, and the coaches actually developing those players, we may never see them. The same goes for every city in every state. I don't think FCD or Philadelphia are outliers, I think they benefit from MLS being at the top of the food chain.
8) Sunny Jim – What can you do when you're raising kids/players in a soccer culture wasteland? No pick up games for 50 miles?
Chris Kerr – This is something similar to what I wanted to ask. Pick up breeds creativity, competitiveness, and a chip on your shoulder to get better. I feel like it's a fundamental reason we aren't producing talent at a faster rate
9) Southern Gentleman – Who is in your 11 regardless of health and why?
Projecting rosters and starting 11's is not my specialty. Also, I've noticed that most people asking these questions are only looking to respond with their own thoughts regardless of what is said. So, my response to you is that if you're interested in this type of engagement, you should start by providing your starting 11 and asking others for feedback.
10) Anthony – I have a 7 yr old daughter who loves the game. What do you think is the best way for her to improve? Her dribbling is ok but she cannot kick very hard. Thank you in advance.
Use a wall. You can use any wall. The wall is the best tool for technical development. Here are some articles on the topic.
11) Alex – Any coaches you recommend learning from in Los Angeles area?
At the moment, I would recommend going to watch Joey Cascio. He is currently working with Legends in the Orange County area.
Joey and I both spent a lot of time observing Brian Kleiban. Although Brian is not coaching at the moment, coaches can still watch his training sessions and learn from him by joining the 3four3 coaching membership program. Other than actually watching Brian work up close, this online course has been the most valuable tool that I have ever come across in all of my years scouring the internet for coaching resources.
12) 21st Century Model – Do you support the 21st Century Model for Division I Men's College Soccer?
Is it a positive change for college soccer? Probably. But we have to realize that changing the season length or structure for college soccer will not have any meaningful impact on the problems that American soccer truly suffers from. I understand the appeal, though. Cool website, too.
13) James Breslin – If you could write a mission statement/club principles for a new or existing club what would they be? I am in the process of helping write them for a new club and we want to get it correct. We want to focus on development and hope to avoid the ruts other clubs have fallen into.
14) Jeff Grafio – How much of a factor does overall team quality affect individual player development?
There are things you can and should be doing as a coach to push your top-level players. That means not catering to your lower-level players, which is certainly the largest portion of your roster. An extreme example could be releasing your best player(s) so they can be in a better environment that will truly push them. Gary wrote a great article about this topic and the link to that is below.
15) Robert – What should a player do if he wants to play a lot, but does not want to pay Travel team fees or isn't going to make the cut? 2 rec teams?
It depends on the long term goals of the player and the realistic potential. If it's just for fun, yeah just play rec or pick up or whatever makes the kid happy. But if the player is good, like legit, and has aspirations to play at a high level, then you need to figure out a way to get the player in that environment. Every family situation is unique and I'm not qualified to say what you should or shouldn't do, but I can say with certainty that if the kid is legit, then get the kid in the right environment asap.
16) Scott – How big of an impact do you feel a lower division side doing well in the Open Cup would have in trying to push the argument for promotion/relegation?
A lower-division team doing well would be amazing. It would help bring awareness. But the hype eventually fades. Take Cal FC for example. They were basically a men's league team that knocked out an MLS team and then went to extra time with Seattle Sounders. Where are those players now? Where is that coach now? Not in MLS. So, that should say something right there.
The open cup is an incredibly lopsided competition. I don't anticipate a lower division team winning it or even making a run as Cal FC did anytime soon. The fight for pro/rel needs to take place in the boardroom.
17) Arg asked multiple questions:
1. Do you think Olympic qualifying and the Olympics take place this year? Canceled, done. See you in 2021.
2. Will the player pool for the u-23's be affected if it is postponed? I don't know the answer, but I'd imagine the entire pool gets a shakedown.
3. Name 3 u23 players that absolutely must be in the Olympic team. That list will change now the tournament is next summer.
4. Who are your 3 overage players if we actually make it? Three overage players… good question… I think it changes in the next year as we see what guys are in form and who isn't and what the needs of the team are. But none of the older USMNT players are super exciting to me.
18) Stephen – How can a club best align from top to bottom with a clear vision when many coaches have different philosophies?
19) Stephen – What are your thoughts on players playing multiple positions at a young age?
20) Owen – The best, independent, clear description of how USSF is structured and operates and who decides what, who is on the board, who votes, and of all that? It seems like someone somewhere would actually have an org chart with some descriptions so that the public can learn it.
Daniel Workman and Chris Kessel are the two guys who I think have done the most work, and the best job in regards to finding and distributing information about the ins and outs of US Soccer. Both of their websites have tons of information.
Daniel Workman and Chris Kessel are the two people who have done the best work (IMO) with finding and distributing the type of information you are asking about. Here are links to their work.
21) David Kerr – Should college coaches be considering moving to DA setups (have more impact on the new first choice pro route) and which college coaches do you most want to see do something like this.
No – college coaches have cush 6 figure jobs and work the best schedule in the soccer world. The only reason a college coach should ever give that up is if they moved to coach first-team professional soccer, working with an academy that has a professional first team, or making a move to help them get to coaching professional soccer. Moving from College to some American youth academy just to move would be a backward move, IMO. I think you can already see college coaches listed as Technical Directors for a lot of clubs, though. Those likely easy, cush consulting jobs or even just brand power, like the club using the coach's name to attract prospects.
22) Beeg487 – How to teach on-field awareness? Meaning before receiving, upon receiving and after delivering the ball, where should I be, where should I be looking, and where do I go next?
My camera died before I could answer this question, but I was going to point you to this video. So, here you go.
---
Never miss new episodes: