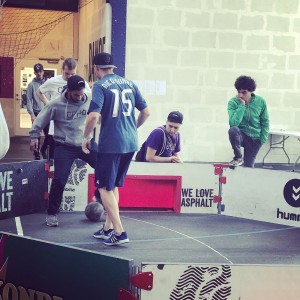 Let me set this up for you.
I was driving down to Southern California for the launch of our 3four3 Players' Club. On the way down, Ian Lane and I were listening to a podcast hosted by a professional soccer player that I was set to interview once I arrived at Gary's house. That interview was scheduled for 12 pm and was going to take about an hour. My brain was filling up with questions that I wanted to ask and topics that I wanted to cover. But then I realized I would have a few hours to kill once I finished that interview and when I needed to be on the field that night.
Then, a new idea hit me.
I should hit up Nick Rogers.
So, I sent him a text and asked if he'd be down for Skype session. He said he was finishing up at lunch but would be back at home soon. We linked up later that afternoon and spent almost an hour talking about pickup soccer, street soccer, and "Panna".
Nick grew up in Orange County. Not necessarily the place you think about when the topic is street soccer. But somehow, in the suburbs of Brea, Nick found a passion for the street soccer scene and has been using it as a tool to teach the game ever since.
During this interview, you'll hear Nick talk about:
How street soccer can help build confidence and add flavor to a players game
Using street soccer as a tool within your existing program
And a hilarious story about the time a 10-year-old kid put Nick "on skates" in a Panna match
Nick now coaches youth soccer coach in the small Northern California city of Rohnert Park. Each week he hosts a free Friday night street soccer jam and is doing great work to bring the street soccer culture to his players.
Outside of coaching, Nick also competes in official street soccer events around the world. He recently got on the mic and co-hosted for a bit at the Pannahouse Invitationals in Denmark and gave a complete recap of his experiences in Europe with a write up on Urban Pitch.
I had a blast talking with Nick. He brought a ton of energy and passion. I hope you enjoy this episode of the 343podcast with NicoSauve15, Mr. Nick Rogers!
Subscribe to 3four3 FM on iTunes or Stitcher. Also, don't forget to check out more of our articles, podcast episodes, or our coaching courses.