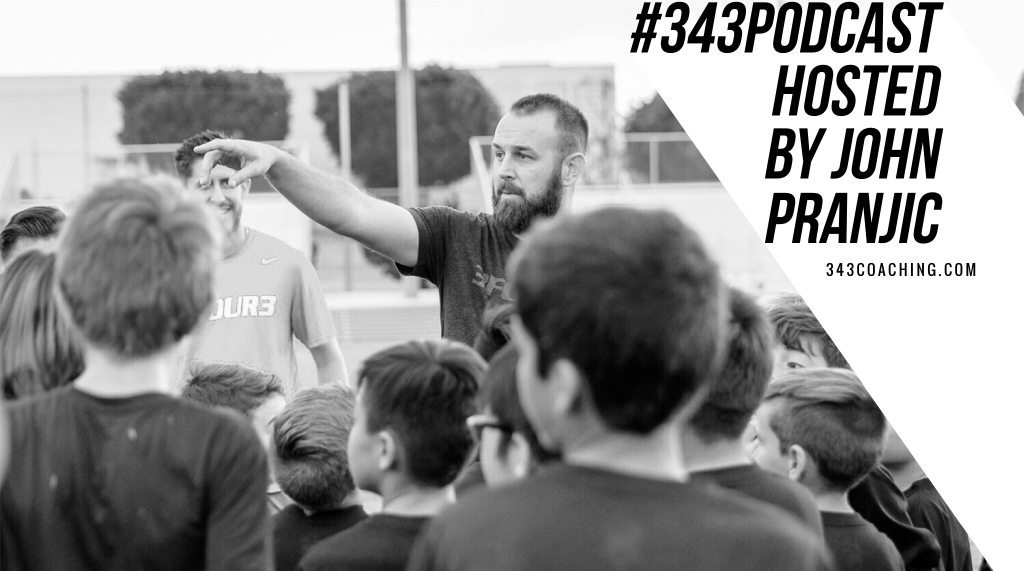 The idea behind this new series is to dig deep into the archives of 343coaching.com and extract the best and most essential pieces of information that will help you become a better coach.
We're going to focus on the three specific pillars of coaching: philosophy, activities, and execution.
Having a better understanding those three pillars, and how they intersect, is going to help you bring your coaching to a new level.
We're going to start things off with some philosophy. And specifically, vision.
Vision is a good jumping off point for this new series. We've talked about it in the free 7-week course and touched on it in blog posts and podcasts in the past.
But what Gary Kleiban wrote about vision will help set the stage for the future.
He wrote:
It starts with Vision…
Having a vision
Having vision
Gary went further and referenced a presentation that he gave at a live 3four3 event in Las Vegas in 2015.
What does "Having A Vision" mean?
This essentially means you have role models clearly established in your mind.
He said a few driving models for 3four3 are:
Possess like Barcelona
Counterattack like Real Madrid
Press like Chile
And for serious practitioners that want to bring a model to life in their own teams, they must deconstruct those role models in order to understand how to train their players.
So, having a vision is kind of like having a roadmap. It's a crucial ingredient if you want longterm success.
But what does "Having vision" mean?
Gary explained it like this…
Do you see whats going on during the action?
If you are watching a game as a scout, spectator, or student, can you decipher what's going on?
And he went on to say that if you can indeed see and decipher whats happening on the field, then you can:
Actively give meaningful instruction to your players
Be prepared to provide legitimate feedback at halftime
Make adjustments as necessary (ie substitutions, player assignments, system changes, etc …)
So "having a vision" and "having vision" are two separate, but related, and integral parts of being a successful coach.
Okay, I'll give you a personal example.
A lot of coaches want to play possession-based, attractive, attack-minded soccer but aren't sure where to start.
I was one of those coaches.
I remember when I was coaching a JV boys team and this incredible forward we had. He could do magical things. We relied heavily on his individual skill. We would literally kick it to him and hope for the best. But I remember talking to the team at halftime during a tournament and telling them that we couldn't rely on just one person. We couldn't just kick the ball forward and watch him do the work. We had to connect passes. We had to work as a team.
At the time, I was only 20 years old and brand new coaching. And I was barely starting to develop my vision of how I wanted my team to play. I wasn't quite there yet. And it took awhile, but eventually, I dialed it in and over the next several years… my vision came to life.
By that time I was coaching a high school girls team. The girls and I worked relentlessly to perfect how we wanted to build out of the back and how we wanted to attack on the other end of the field. We had specific role models and we would do our best to train and play like them.
I started to use a small set of training activities, over and over again. Those activities all translated directly to how I wanted the girls to play in games. Everything we worked on blended together to cover the entire field – from front to back, side to side, with and without the ball.
Everything fit into the vision.
We would work on building out of the back every single practice. Eventually, the goalkeeper playing short instead of kicking the crap out of it became part of our identity. And we started to get really good at it.
We started executing and bringing that vision to life in games consistently. We had created a solid foundation that we never stopped reinforcing. Because it was the foundation of that vision that wore other teams down. It was the foundation that took our opponents by surprise. It was the foundation that sometimes made things look easy. It was the foundation that became our true identity.
So, a lot of coaches want to play possession-based, attractive, attack-minded soccer but aren't sure where to start.
Start with vision.
Before we wrap up, I want to give you some questions to answer.
Questions:
How do you want your team to play?
Why?
Do the activities you're using and your execution as a coach support your vision?
These are important questions. You might be surprised at how hard it is to actually write out the honest answers.