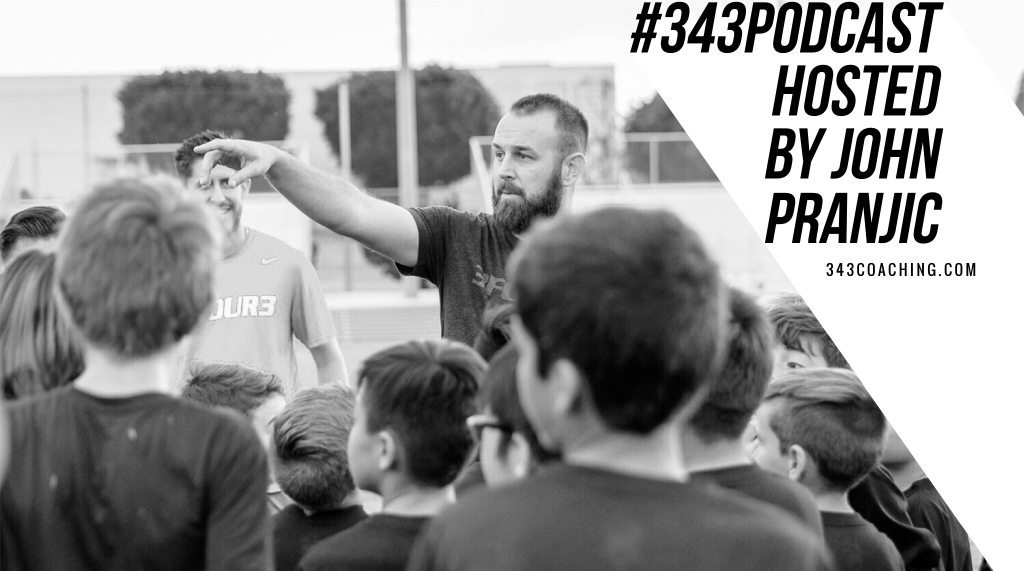 On this episode, I'm joined by Luis Martinez, Toni Navarro, and Joe Campos.
Luis is the Academy Director for Valencia CF, one of the most productive and successful youth academies in the world. According to him, Valencia's youth academy was recently ranked top 5 when it comes to how many players are currently playing professionally around the world. Toni manages Valencia's international programs, like the program they run in Seattle with Joe's club, Eagleclaw FC.
Joe has been on this podcast before. You might remember the episode titled "Here's What Happens When You Build Your Own Club and Disrupt Your Soccer Market." Well, that was Joe. He was fed up with the way American soccer works and wanted to offer something different, something better. And the people he partnered with to do the disrupting are from Valencia. Hence the conversation you're about to hear.
One of the more interesting points I zeroed on was that these coaches from Valencia are using these programs to teach players their methodology and also scout players and their ability to perform. You'll hear me say I find it fascinating that foreign scouts are looking at American players way earlier than American scouts.
Crazy, right? And so true.
Around the world, clubs are incentivized to scour the earth for talent. But here in America, this sort of behavior is frowned upon. The only type of activity we see is usually an effort for a club to expand, monopolize, and crush clubs in that market. We see that here in the US with mega-clubs. We also see it from MLS franchises.
We'll save those talking points for another day… there is plenty more to digest in this episode.
The guys touch on a number of different topics:
How China is approaching youth soccer development
Their thoughts on the American soccer player and what they've seen during their trips to the United States
The purpose of their programs, the value they provide, and why it's not just about brand building
I've provided a lot more show notes than usual. You can find those below.
Here several related episodes:
Show notes:
Luis Martinez – Valencia CF Academy Director
Toni Navarro – Director of International Soccer Programs
Joe Campos – Eagleclaw FC Executive Director/Technical Director
What types of services is Valencia offering and implementing and where?
Variety of services including programming, academies, and schools in at least 12 countries
China, Greece, Cyprus, Bulgaria, Italy, UK, USA, Japan, Canada, London, Miami, New York, Montreal
Talking about their programs in China…
Their programs in China are unique.
China is tackling soccer development at scale and bringing soccer to the kids (to the school yard) instead of making kids go find soccer.
**Like Tom Byer has stated on the #343podcast before – China requires that these programs go through their department of education and are therefore part of the actual school curriculum.**
Talking about their programs in general…
They try to tailor the program to the needs of whoever they are working with.
A single club like Eagleclaw in Seattle is different than a high school in China.
Every program is tailor made and comes with a direct connection to Valencia, no middle men.
Some places are ready for a high performance project and are capable of implementing the same methodology that Valencia uses in Spain
Other places are not ready for that and they focus more on basics, and in some cases are introducing football to the country, or the community
They also work as a methodology consultant, sometimes even with professional clubs, and help them develop their own methodology
Sometimes they put instructors inside of the programs and they help to develop better players and better coaches
**Interesting side note, one of Gregg Berhalter's USMNT assistant coaches, Nico Estevez, is a former Valencia coach.
Nico Estevez was also with Columbus Crew and was promoted from the academy to first team assistant
Discussing China again
In China, the programs are in the school.
China has made the decision that they want every kid to learn how to play football
The Valencia coaches have to work in the regular schools
The programs have to be adapted to include kids with football knowledge and for those who might not even know the rules
They talk about creating a methodology consultancy with Seattle and the objectives of the first year
It's easy to work with Eagleclaw because the thinking is the same: develop the player in the proper way
What is the most interesting part of the relationship between Eagleclaw and Valencia?
They speak the same language in regards to football
They are interested in developing the players
Not just focused on the results
What are their thoughts on the typical American players at this moment?
They have been coming from Europe more often and working with more and more American players
Many European people think they're going to see players that can't play football
The reality is that American players have the technical skills
First the technical skills must be there before they introduce tactics
They find many skillful players
American sports culture is different than European sport culture and they think Americans are hard workers
Where are American players still lacking?
Tactical and decision making is where the American player is still behind
Soccer is a very collective game
Americans might not be used to having to be tactically combined as a team
Joe talks about some of the differences between US Soccer coaching education and the education he has received from Valencia
What is the overall goal of these programs they run around the world?
Of course, one part is marketing and trying to expand the brand around the world
He talks about the different brands and mentions that Barcelona has their brand, plus Messi who is a brand himself
The Valencia Academy is in the top 5 according to studies about which programs have the most active professional players around the world
So when it comes to marketing, they realized one of their strengths is developing players, so they decided to expand their brand through academies
Joe asks the guys – Is there only one way to playing pro in Europe for Americans?
Along with their brand building objectives, they are also always looking for talent
These programs are also a way to educate players in the Valencia way
Its easier to manage local players than bringing players from other parts of the world
But they cannot be closed to the idea of bringing a player from the other side of the world
***John mentions that he thinks it's interesting to have international clubs scouting and developing players at a younger age than typical American programs. International clubs are scouting and monitoring American players much earlier than any American scout is.***
John asks what is one message they want to get out to American listeners…
"They have to see the value in these types of programs"
In regards to Eagleclaw…
Valencia feels that "they are part of our family."
---
Never miss new episodes: